Latest News
SIIG Introduces HDMI 2.0 to DisplayPort 1.2 Converter
Fremont, California (May 23, 2018) SIIG, Inc., a leading manufacturer of IT and AV connectivity solutions, is proud to announce the release of the HDMI 2.0 to DisplayPort 1.2 Converter (part #: CE-H22Z11-S1).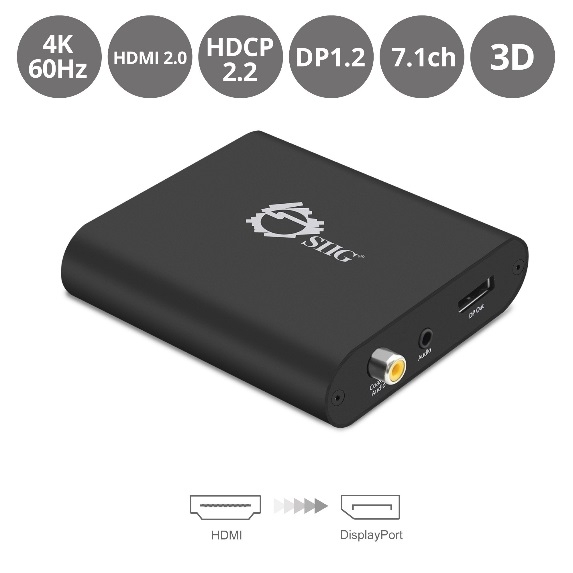 SIIG's HDMI 2.0 to Displayport 1.2 Converter is designed to connect HDMI enabled devices such as laptops, game consoles, etc., to Displayport monitors/displays. It supports all of the highest resolutions, including: UHD [email protected] (4:4:4 8bit), [email protected], [email protected] resolution via EDID management DIP switches, and is firmware upgradeable allowing for expanded compatibility with different monitors. It also has a separate coaxial audio jack and 3.5mm Stereo audio jack, extracts 7.1Ch digital surround sound and stereo audio output respectively with the HDMI signal to connect your audio playback device. No need to connect additional audio cables to monitor. It is all enclosed in a sturdy metal housing that adds durability and improves heat dissipation and cooling for stable operation during extended hours of use.
It is THE ONLY solution for those that want a 4K gaming or movie watching experience on their displayport monitor without having to buy an expensive HDMI 2.0 4K monitor. Few adapters convert HDMI to displayport and NONE to 4K @60Hz. Unlike this converter, a 4K @30Hz adapter will be UNABLE to display native 4K @60Hz gaming consoles (such as Xbox One s, Xbox X, PS4 Pro) at anything over 1080p. You finally found what you were looking for!